TGK Features
Development
We continue to produce revolutionary productswith our continuous pursuit of innovation and creativity.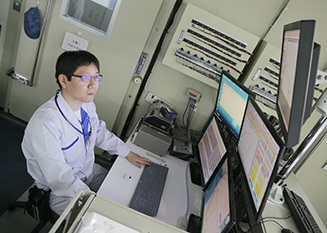 Taking advantage of being an independent company with no obligations to a specific manufacturer, we partner with various automotive and system manufacturers for product development and testing. This enables our unified development, manufacturing and sales system to quickly incorporate technological trends and customer feedback. Thanks to our inhouse capabilities related to device design and the development and manufacture of production equipment, we have secured unparalleled technological superiority. Reflecting the effect of our tradition of courting technological innovation and our two-pronged strategy of developing both products and manufacturing technologies, we've generated a virtuous cycle wherein cutting-edge technology is developed within our close-knit group. This has made TGK a top manufacturer of control components.
At TGK, with the Technical Center at the core, the neighboring Shiroyama Plant, Head Office and Kunugida Plant work closely together. They work hard to create new differentiated, competitive products that are outstanding in terms of performance, quality, and reliability by anticipating market and social needs, including eco-friendliness. One mark of our advanced technological capabilities is our more than 1,000 applications for patents and other protections.
Devices for EV and HEV
We are developing various control valves used for heat pump systems for EVs (electric vehicles) and HEVs ( hybrid electric vehicles).
Devices for the next generation refrigerant
We are developing various control valves for the next generation refrigerant with low environmental load to replace the current HFC-134a refrigerant.
Sensors
We are developing the humidity sensors,temperature sensor,optical sensor and other sensors for automobiles to cope with the recent introduction of IT technology
Resinification
We are developing the resinified parts to further reduce the manufacturing costs and physical weight.
Other control devices
We are also developing other innovatively new products that can be well appreciated by the customers.
Production
The secret behind our highly original and competitive productsis our unmatched production capability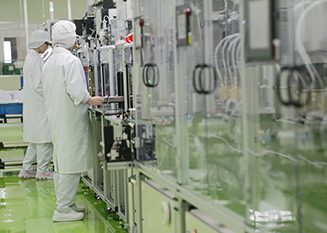 In this industry, the launch of innovative products requires two things: production technology power, the ability to skillfully and economically manufacture the desired goods, and manufacturing power, the ability to achieve fine component processing. Almost all of TGK's production equipment is developed in house. In Japan and overseas, the production equipment used at TGK's production sites is utterly unique. It was designed based on our own ideas and developed and built from scratch. We promote the production innovation along with the technological innovation as one of our "fice innovations" because it is the spring of our strength.
We develop and design high-quality and innovative products. We make effective use of our highly flexible proprietary production equipment. And, we supply products at almost unbeatable speed and prices. All these efforts have firmly established our global standing as a top-class device manufacturer. We constantly strive to raise our development and production capabilities to new heights. TGK's evolution is supported by its ongoing production innovation.
Quality
We tirelessly pursue quality achieved by fully utilizing the functionality of customers' systems.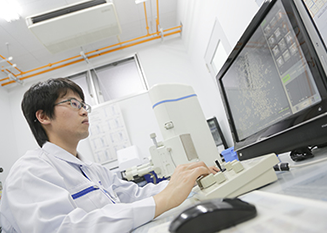 Standing always in the customer's shoes to deliver optimal quality―that is TGK's motto. Our mission is not only to propose and supply individual devices, but also to integrate devices into systems in order to make them more efficient and enable safe operations in all environments.
TGK strives to continuous seamless quality management throughout the product creation process, implementing quality improvement procedures that are tailored to each stage, from development and design to production and inspection.
TGK obtained ISO 9001 certification in 1998, and IATF16949 certification in 2018, reflecting continual efforts to ensure world-leading quality. Our commitment and tireless efforts, diving deep into customers' systems, have earned the appreciation of our customers and built TGK's global customer base.